Natural stone meets chrome design
Refined dream bathroom with an elegant floor plan and high-quality interior
A refined dream bathroom offers room to move around, thanks to an open-plan room concept. The puristic architecture makes use of high-quality materials and minimises distraction through the use of whimsical furnishing details. The design is characterised by surfaces of valuable natural stone, exclusive ceramics and elegant mixers. Innovative technology enables you to enjoy water in comfort and with efficiency.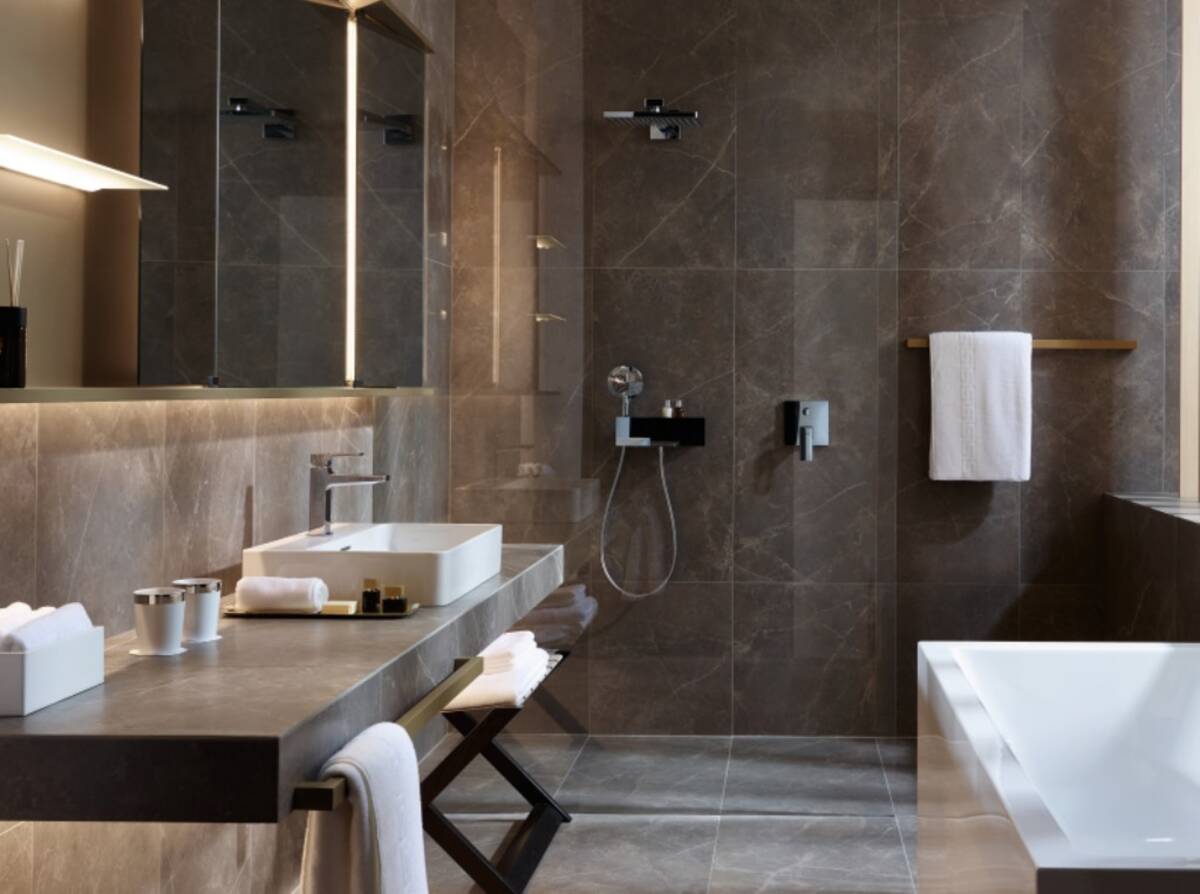 +3
Everything on the notepad
Product noted
Product saved for 30 daysSee notepad
The product could not be saved.
Please try again.
Purist, elegant dream bathroom
Design a refined bathroom with an exquisite interior and innovative technology
Would you like to create a refined dream bathroom in a clearly structured ambience, with a purist design? Opt for the vibrancy of valuable natural stone, elegant ceramics and high-quality mixers to express your sense of style. In a linear room layout, you can elegantly furnish your bathroom by designing a feel-good area with bath tub, shower and wash basin on one continuous flat surface. Marble tiles, used over the entire surface area, with seamlessly varying surface structures make the architecture look stylish and spacious. Subtle colour gradients and the relinquishment of intricate décor are characteristics of minimalist design, which you can enjoy without any distractions. Use elegantly built-in, mirrored storage spaces to create space for everyday articles and keep the interior uncluttered.
Refined dream bathroom in a geometrical design
In this dream bathroom, a precise design forms the ideal background for the elegant silhouette of white bathroom ceramics and shiny chrome mixers. Whether it's for the wash basin or bath tub: the taps and mixers from the hansgrohe Metropol range accentuate the aesthetics of the 90-degree angle, and with efficient technology, they add highlights to the modern ambience. In the vanishing point of the room, a spacious shower system invites you to experience versatile water indulgence.
hansgrohe specialists
Find a hansgrohe retail store near you
hansgrohe Loading showroom data
An error occurred. Please reload the page.
Your search covers the following countries: Australia, New Zealand