Dream bathroom in a bright room design
Bathroom with sensuous taps in a refreshing interior
A bright bathroom can be designed in modern architecture or a stylishly refurbished old building. The bathroom with natural light, featuring large windows, has the benefit of an airy atmosphere. Combined with wall and floor surfaces in light colours, this creates a fresh interior. The invigorating ambience is complemented by white furnishings with accents in chrome and turquoise.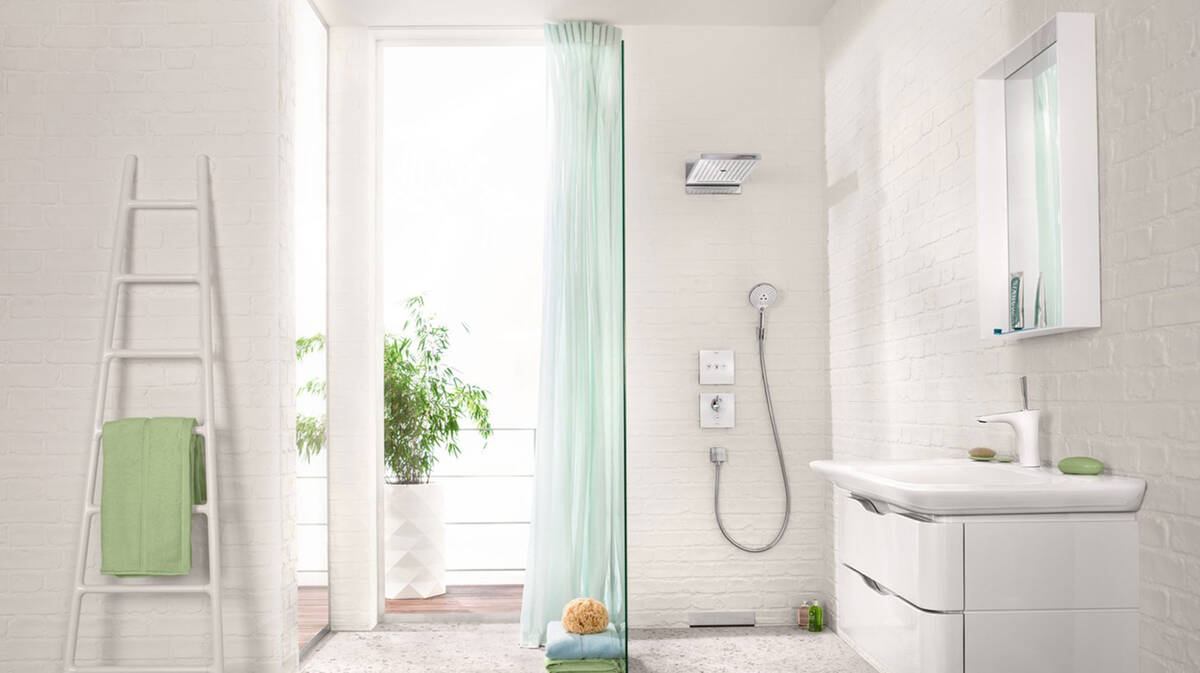 +7
Everything on the notepad
Product noted
Product saved for 30 daysSee notepad
The product could not be saved.
Please try again.
Create a bright bathroom with natural light
Bathroom with a light-flooded interior in fresh shades of white and green
Would you like to design a bright bathroom with a fresh atmosphere in modern architecture or in a renovated old building? A room with large windows and access to the outside offers the ideal conditions for creating invigorating bathroom design. Walls finished in white and exposed brickwork are suitable design elements for creating a bathroom with natural light. The stone pastel grey of polished screed gives the interior a cool, natural feel. The separation of functional and feel-good areas creates a private spa area that can be used for relaxation. White bathroom furniture adds extra lightness to the ambience. Matching accessories in light blue or green shades bring the freshness of a pure mountain spring into the uncluttered bathroom.
Design a bathroom with natural light and enjoy sensuous water indulgence
With their white and chrome finish, the taps from the hansgrohe PuraVida range underline the pleasant ambience in a bright bathroom. In the vanishing point of the room, the floor-level shower area offers modern water indulgence. An elegant control coordinates the versatile shower system with overhead and hand shower. Innovative hansgrohe technologies guarantee comfortable and efficient use of water.
hansgrohe specialists
Find a hansgrohe retail store near you
hansgrohe Loading showroom data
An error occurred. Please reload the page.
Your search covers the following countries: Australia, New Zealand